Trips full of education and fun with a conscience, EDUCON
Some years ago, we started collaborating with EDUCON in the DISCOVER-EDUCATIONAL TRIPS project.
The #EDUCONteam led by Carmelo Salas (Educon's General Manager) and Jézer Pérez (Project Coordinator), together with the whole team that accompanies them, carry out a project full of enthusiasm, education, and fun called DISCOVER-EDUCATIONAL TRIPS during the last term of each academic year.
Synergy between young Tenerife Companies
EDUCON is a company from the north of the island of Tenerife, dedicated to the planning, organisation and management of educational, cultural, sporting and leisure activities.
Within the project DISCOVER-EDUCATIONAL TRIPS, schools that choose to organise their end-of-year trip with EDUCON make a visit to the largest adventure park in the trees of the Canary Islands, namely Forestal Park Tenerife.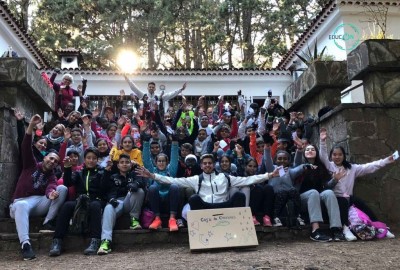 EDUCON through the DISCOVER-EDUCATIONAL TRIPS project, aims to ensure that students from the schools involved in the project or youth groups, enjoy and learn from the cultural, educational and leisure activities to be carried out on the Island of Tenerife during a period of five to seven days.
This project stands out for its social work, seeking to promote values through good deeds and actions in the activities that are performed, promoting the comprehensive development of the students.
Furthermore, it is worth mentioning that the #EDUCONteam in all the activities they carry out, such as, cultural visits, water parks, zoos, nature activities and educational museums, always disseminate social values such as the three Rs (Respect, Responsibility and Romp/Roar). In addition, their golden rule "do what you would like to be done to you" continuously reinforces continuously these values and establishes learning in each activity.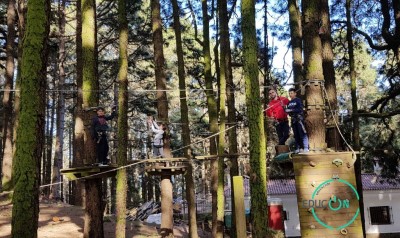 Visit Forestal Park Tenerife as part of the DISCOVER-EDUCATIONAL TRIPS project
Generally, the students who travel to the biggest island of the Canary Islands together with the #EDUCONteam  and their project DISCOVER-EDUCATIONAL TRIPS, after visiting the Museum of Sciences and the Cosmos  located in San Cristobal de la Laguna, come to our facilities to enjoy a different afternoon in the heart of nature in the magnificent Canary pine forest of the Protected Landscape of Las Lagunetas.
In the facilities of Forestal Park Tenerife, besides having fun, the students work on their emotions (happiness, fear, surprise, etc.) surpassing each circuit at height and go sliding down the gigantic zip-lines. The camaraderie and motivation of the #EDUCONteam (CHECK LINK) are fundamental ingredients to enjoy this unique experience in the largest forest adventure park in the Canary Islands.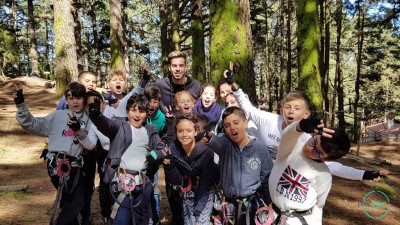 We are looking forward to the start of the school year to continue experiencing unique emotions and creating unforgettable memories alongside major companies in the educational sector like EDUCON.