Adult birthdays in Tenerife
Adult birthdays in Tenerife in the heart of nature
From Forestal Park Tenerife we want to help you organise a birthday party for adults in Tenerife full of emotions and good vibes.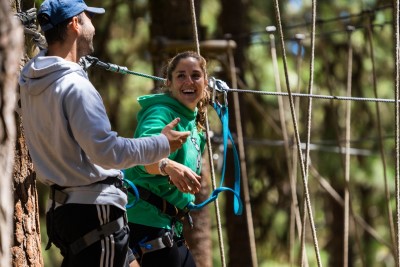 Plan the most adventurous birthday for adults in Tenerife
First of all, think about the relatives and friends you would like to celebrate another year of your life with you. Once you know who you want to share this adventure with, choose the options you want to include. In the Canary pine forest of Las Lagunetas Protected Landscape, you can organise an unforgettable party.
Generally, you might think that an adventure park in the trees and zip lines is only for children. However, Forestal Park Tenerife offers options for both, children and adults. In this sense, we want you to keep in mind that fun and adrenaline are guaranteed. During the activities you will overcome challenges at height, you will climb up to thirty metres high in the top of a pine tree, you will slide down gigantic zip lines and you will share all the emotions with your loved ones.
Birthday Adults in Forestal Park Tenerife