Reopening of Forestal Park after the Arafo Candelaria Forest Fire
Welcome back to Forestal Park Tenerife!
First, we would like to thank everyone who has supported us since the Arafo Candelaria forest fire started on the 16th of August 2023, the expressions of affection have been a great driving force to keep going. Also, infinite thanks to the extinguishing media that fought the fire in Tenerife, but especially in the Llano de Las Lagunetas, because without their action, today we would not have the opportunity to announce that the time has come to reopen our doors.
It has been a difficult journey, but thanks to the hard work of our team and the support of everyone, we are ready to open our doors and offer you an unforgettable experience in the middle of nature.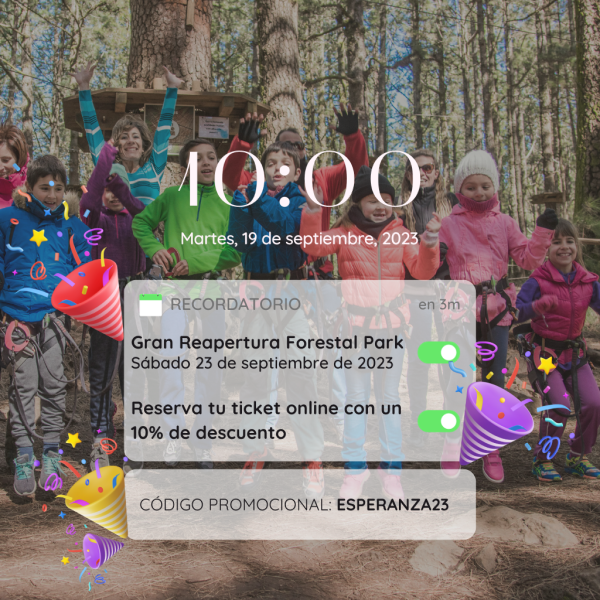 Effects of the forest fire Arafo Candelaria
Next, it should be noted that for the moment the Fuerteventura, La Graciosa and La Gomera Circuits are not operational. Therefore, there is a new challenge for Forestal Park Tenerife to reinvent itself. In this first phase we will start with the circuits that are at full capacity with a human team that is brimming with energy to make you live a unique adventure.
On the other hand, we will be considering phases of restoration of both the Monte de La Esperanza where we are located and our facilities. Now more than ever we must unite to carry out an alternative forest management that protects our forests.
Don't miss this opportunity to enjoy a day full of fun and adventure in a stunning natural environment. Our team is excited to welcome you back and make sure you have a memorable day in our park, and we look forward to seeing you from Saturday 23rd September 2023!
Special offer after the Arafo Candelaria forest fire
During the summer 2023 our rates have been modified, which from 23rd September 2023 will always have a 10% discount applied because of the fire.
In addition, we want to thank you for trusting us by giving you a 10% discount on your next visit, just buy your tickets through our online sales calendar Online Sales Calendar and enter the exclusive promotional code: HOPE23
What do you get with this promotional code?
10% discount on your online purchase
Access to the high ropes and zip lines for 3 hours (approximately half an hour of training and 2 and a half hours of fun in the trees).
Personal protective equipment.
An unforgettable experience in the green heart of Las Lagunetas Protected Landscape.
Safety first
Remember that the safety of our visitors remains our top priority, so we have implemented additional measures to ensure that your visit is safe and that all you have to worry about is enjoying yourself.
In this regard, the measures that have been implemented are:
Phytosanitary study of the affected area
Beaconing of the affected area to avoid trespassing and to start the restoration of the environment.
Reduction of the capacity
Conditioning of the paths and the picnic area.
The TF-24 road that crosses Monte de La Esperanza
Because of the Arafo Candelaria forest fire, the TF-24 road linking San Cristóbal de La Laguna and the Teide National Park has also been affected. Therefore, for the time being between kilometres 9 and 37.5 the following restrictions must be considered:
Vehicle speed will be limited to 50km/h.
The transit of two-wheeled vehicles (motorbikes, bicycles, etc.) is prohibited.
Vehicles over 12m in length are prohibited.
Stopping and parking along the road and at viewpoints is prohibited.
These restrictions will remain in force until further assessment by the Technical Services of the Cabildo Insular de Tenerife.
The most adventurous Canarian pine forest awaits you
We invite you to come and join us on this exciting adventure as we explore the natural beauty of Tenerife together. Not only are we back, but we are also stronger than ever!
Thank you for your continued support and we hope to see you at Forestal Park Tenerife very soon. Together, we will make this season unforgettable – let's make every day count in nature!